Welcome to Milestone Junior
Milestone ECCE centre is a Premier centre of Central India, catering to the needs of child's development. It provides a programme which is development oriented and the child is the focal point of the total programme. It places a great deal of importance on the children's interaction and exposure with the environment.
Early childhood (up to age 6 years ) education is important for all over development of child specifically because –
1. First 6 years of life are very important in child's life span since the rate of development is most rapid at this stage.
2. To develop to his or her full potential a child needs a stimulating environment at this stage.
3. ECCE Programme if organized effectively can compensate the deprivation at home front can help the child build a strong foundation and development of his full potential.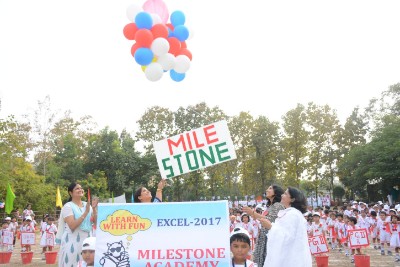 Need For ECCE Center
1. Education at pre-primary (i.e. upto class I) should be development oriented. This is the time when child is still developing and needing a good direction & perfect supervision. ECCE programme includes habit formation, health, nutrition and pre-school education to ensure the all round development of the children.


2. Learning at schools & kindergartens through formal method makes the learning atmosphere dull, monotonous and joy less. Child remains passive in by doing & playing emerges. Milestone ECCE centre emphasize learning where child is the focal point & learns by doing & playing.


3. Increasing number of working mothers with unavailability of experienced grand parents are not able to give required quantity of time to their children. They need a place where the child is left in the best conditions. Milestone ECCE center offers six hours schedule for working mother's children.


4. Unsatisfied, unsaturated & unrealistic desires of the parents are imposed on their children that keeps the young child in constant pressure. Milestone ECCE center is a place that answers the question all parents ask "How Best Can I Help My Child".